Merchandise...
Taught by the Nashville Bluegrass Band
$29.95 / 60 minutes / Music and lyrics enclosed
Sing along with NBB! The members of this powerful group -- Alan O'Bryant, Pat Enright, Gene Libbea, Stuart Duncan and Roland White -- share their harmony singing techniques with all aspiring harmony singers.
In an exciting exchange of musical ideas, the band guides you from basic duet singing to the stirring three-, four-, and five-part harmonies that have made the Nashville Bluegrass Band an award-winning musical force for two decades. By singing each part separately, they give you a rare opportunity to try either the lead or one of the harmony lines right along with them.
The members of the group break down the vocal harmonies to some of their most requested old-time country, bluegrass and gospel songs, including My Native Home, Back Trackin', Who's That Knockin'?, To Be His Child, Prodigal Son, Two Wings and I've Got A New Born Soul. The DVD concludes with a memorable performance of Roll, Jordan, Roll recorded at the Merle Watson Memorial Festival with their mentors, the great a cappella group, the Fairfield Four.
To purchase, please visit the Homespun Video site.
---
Twenty Year Blues T-Shirt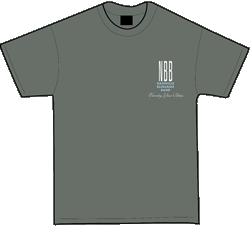 On sandwashed 100% cotton tee. Runs slightly small. Click image to see detail.
SIZES: Medium - Large - XLarge - XXLarge
$15 (plus $5 shipping and handling)